Released 4/29/14, a sexy, contemporary romance: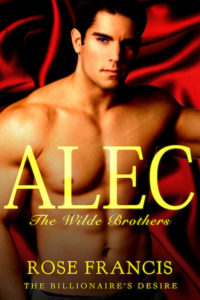 SYNOPSIS: Just a few bored billionaire brothers having fun. But at whose expense?
The Wilde brothers have spent the past few years reaping the rewards of their youth, good looks, and massive wealth. They can acquire whatever 'toy' or amusement they desire, and fly wherever they want, whenever they want, with practically whomever they want. Still, they want more—at least Alec, the eldest, does, and he has an idea how to get it.
To alleviate their eventual boredom with the easy life, the brothers propose specific games—dares, chases, and challenges—to each other every year on their birthday.
They've bedded supermodels, famous actresses and pop stars, but this year, Alec proposes they go after someone from their past—someone 'normal' yet elusive—and give them the time of their life.
Brandon and Connor have to think hard about their prospects, but Alec knows exactly who he wants go after: Dahlia Bridges—a girl who has haunted him since their playground days. He thinks she could be the missing puzzle piece in his otherwise full, decadent life and he will do everything in his power to make her his.
But how much will it take?
This is the first book following the Wilde brothers: Alec, Brandon, & Connor.
There is also a Goodreads giveaway for a print copy of this book here.
Brandon's story forthcoming in June 2014.
Connor's story forthcoming in July 2014.