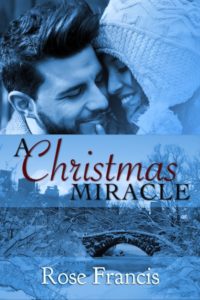 SYNOPSIS: Brenda's holiday season is looking pretty bleak.
She hasn't spoken to her half-sister Rachel–the only family she has left–since Rachel stole her boyfriend, and Brenda hasn't dated since. Now Rachel and the man Brenda once thought she'd marry herself are expecting a child, and Rachel keeps inviting her over to have dinner with them.
Brenda has already turned down their Thanksgiving invitation, but she doesn't want to spend Christmas alone, yet she's not sure she's gotten over her ex enough to face the two of them as a couple. But then she collides with a handsome stranger in a coffee shop and everything changes…
Alex has given up on family Christmases and miracles after watching his family slowly get wiped out, his brother the latest casualty. He has settled on living life playing the field, not trusting his luck with having people he cares about stick around. But a chance encounter with a sad-looking beauty in a coffee shop arouses his curiosity.
To make up for the coffee he spilled on her, Brenda asks the handsome stranger one favor: to accompany her to her sister's Christmas dinner.
He agrees on one condition: that she go out with him in the meantime until then.
They both agree to end their arrangement after the Christmas dinner is over, despite mutual growing feelings of wanting more.Brenda is determined to keep her heart protected, but can Alex hold on to the scared beauty for longer than the holiday season?
RELEASED 12/11/13