To celebrate the release of Connor: The Wilde Brothers (3rd book in the series: The Billionaire's Desire), Alec is on sale for 99c! Last till 9/16.
Connor will be available on all platforms this week (9/15-9/18):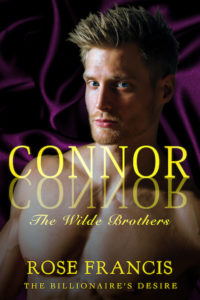 Synopsis: Connor Wilde has been on quite a ride.
Only twenty-four, a lifetime of craziness has happened to him, and it doesn't seem to be slowing down. He feels destined to live life in the extreme, so he expects nothing more than drama when the latest annual game he plays with his brothers requires that he revisits part of his crazy past. He feels compelled to face Gabriela Miller again—a girl whose heart he crushed back in high school, and who would probably slap him silly if she ever saw him again. But Connor feels a pull to her he can't deny. Besides, what he did to her—that was so long ago; she couldn't possibly still be holding a grudge, right? Connor realizes he is usually a force of destruction, but he straps himself in for the ride, hoping that, instead of inflicting more damage, he can repair some part of their connection instead.
To Gabriela Miller, Connor Wilde is like fire itself: entrancing and dangerous. She has been burned by Connor before, and how many times does one need to stick one's hand in a fire to realize the damage it can cause? When Connor pops up in her life again, she knows he is up to no good; at the very least, smoke is on the horizon, whether he means to start a fire or not. But the thing about fire is that sometimes, it has to take its course, no matter how much water you try to douse it with. Gabriela plans to fight Connor off for as long as she can, but if he finds his way in again, will she be left in ruins, like before?